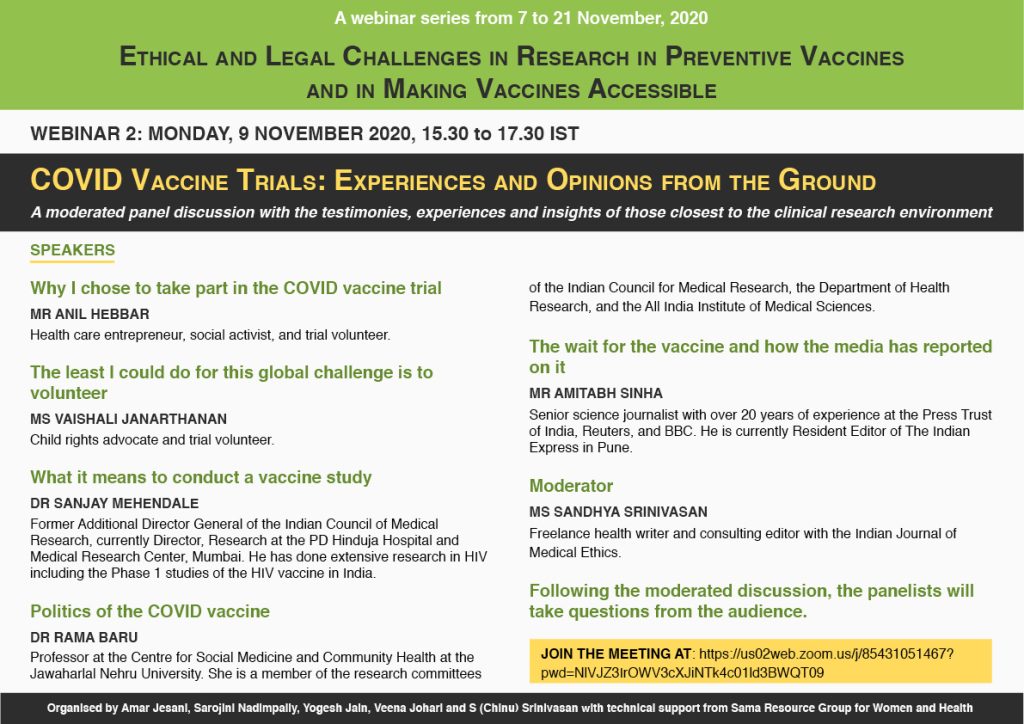 The WEBINAR 2 of the Webinar series on Ethical and Legal Challenges in Research in Preventive Vaccines and in Making Vaccines Accessible, the is to be held on
Monday 09 NOVEMBER 2020, 15:30 to 17:30 IST
---
The Webinar 2 TOPIC:
COVID Vaccine Trials: Experiences and Opinions From the Ground
A moderated panel discussion with the testimonies, experiences and insights of those closest to the clinical research environment
---
Speakers
Why I chose to take part in the COVID vaccine trial
MR ANIL HEBBAR
Healthcare entrepreneur, social activist, and trial volunteer.
---
The least I could do for this global challenge is to volunteer
MS VAISHALI JANARTHANAN
Child rights advocate and trial volunteer.
---
What it means to conduct a vaccine study
DR SANJAY MEHENDALE
Former Additional Director General of the Indian Council of Medical Research, currently Director, Research at the PD Hinduja Hospital and Medical Research Center, Mumbai. He has done extensive research in HIV including the Phase 1 studies of the HIV vaccine in India.
---
Politics of the COVID vaccine
DR RAMA BARU
Professor at the Centre for Social Medicine and Community Health at the Jawaharlal Nehru University. She is a member of the research committees of the Indian Council for Medical Research, the Department of Health Research, and the All India Institute of Medical Sciences.
---
The wait for the vaccine and how the media has reported on it
MR AMITABH SINHA
Senior science journalist with over 20 years of experience at the Press Trust of India, Reuters, and BBC. He is currently Resident Editor of The Indian Express in Pune.
---
Moderator
SANDHYA SRINIVASAN
Freelance health writer and consulting editor with the Indian Journal of Medical Ethics.
---