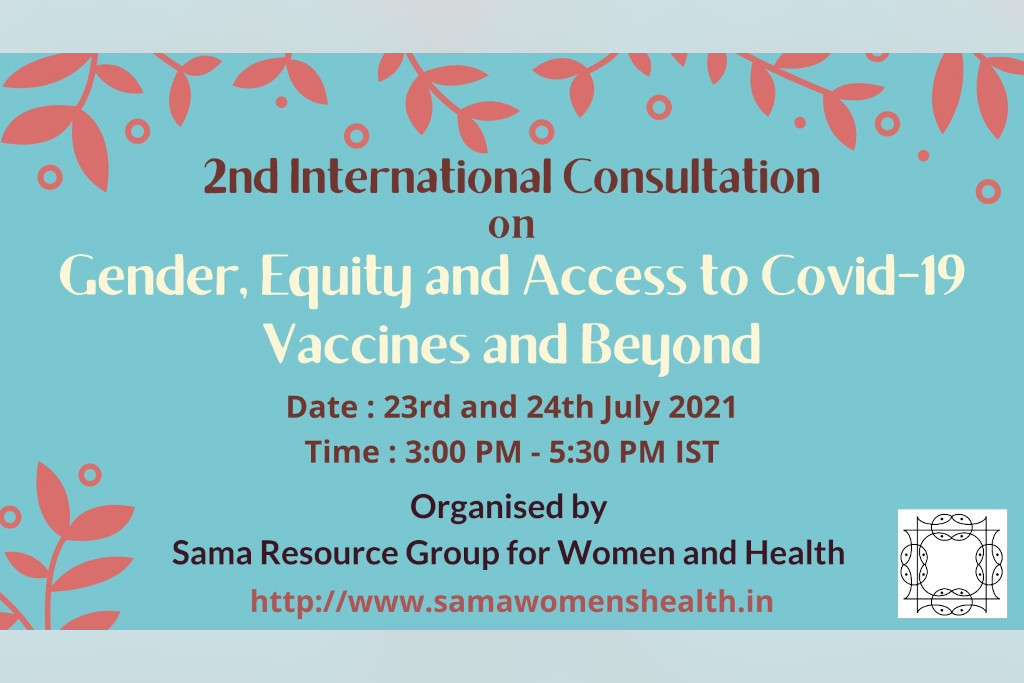 Sama recently conducted a two-day international consultation on Gender, Equity, and Access to COVID-19 Vaccines and Beyond on 23rd and 24th July 2021. Over the two days, 54 participants from 13 countries, mainly from Global South, shared with each other their experiences and observations of the pandemic – from the local to the global level, and also shared their beliefs on what a feminist response during such a crisis should be.
Some of the topics discussed over the two days were on what the impact of a uniform response to COVID-19 has been, especially on vulnerable groups, such as persons with disabilities, sex workers, refugees, and people in institutions. Responses such as lockdowns in the absence of social protection have also increased stress, mental health concerns, especially where there has been loss of life, livelihood, and experiences of violence. Participants critically discussed how health technologies have been developed, regulated, ethics of trials, and transparency of data. In the light of authoritarian regimes and profit-focused pharmaceutical companies, the experience of the pandemic has only been worse.
With regard to vaccines, the consultation discussed similarities and differences in equity at the local and global levels, and 'vaccine apartheid' with many rich countries being able to vaccinate majority of their populations whereas many in low to middle income countries have not been able to vaccinate even those at maximum risk. Participants spoke about their perspectives on vaccine hesitancy, the need to ensure that vaccines are accessible, and additional data and research that is still needed such as trials on pregnant and lactating women. Also, the issues related to accountability and transparency in the context of data sharing, patent waivers, and accountability of players in the vaccine development and distribution were discussed.
The consultation concluded with participants reflecting on what a 'feminist' 'response' to COVID-19 should look like and shared these insights with one another. Sama is currently in the process of collating these learnings into a policy brief.