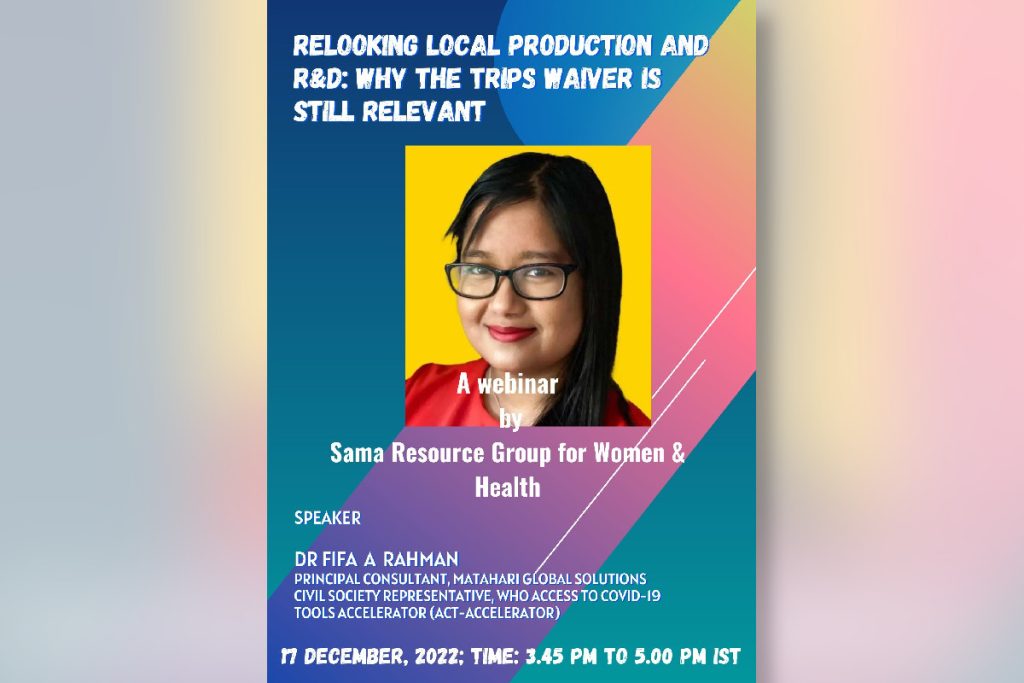 COVID-19 not only showed the need to develop and provide preventive measures such as vaccines but also highlighted the need to support local development and manufacture of diagnostics and treatments. The piecemeal treatment of the TRIPS waiver proposal is not sufficient to respond to the COVID-19-related issues faced, particularly in developing countries. As we draw closer to the timeline to review the waiver proposal, it is imperative to understand the landscape in which the lower- and middle-income countries are operating.
Continuing the work on pandemics and public health—access to vaccines, diagnostics, and medicines—Sama is organising a webinar on the 17th of December 2022 from 3.45 pm to 5 pm IST on Relooking local production and R&D: Why the TRIPS waiver is still relevant and how it is necessary for developing countries to continue pushing on this to foster local production.
The speaker for the webinar is Dr. Fifa A. Rahman, a Principal Consultant for Matahari Global Solutions, a consultancy group working on the delivery of global health solutions with local relevance. She is the CSO representative for the Access to COVID-19 Tools Accelerator (ACT-Accelerator), attending meetings with principals of global health agencies involved in the global response to COVID-19 and participating in a wide range of CSO consultations to encapsulate key issues and concerns into decision-making on COVID-19 diagnostics, therapeutics, vaccines, and health systems.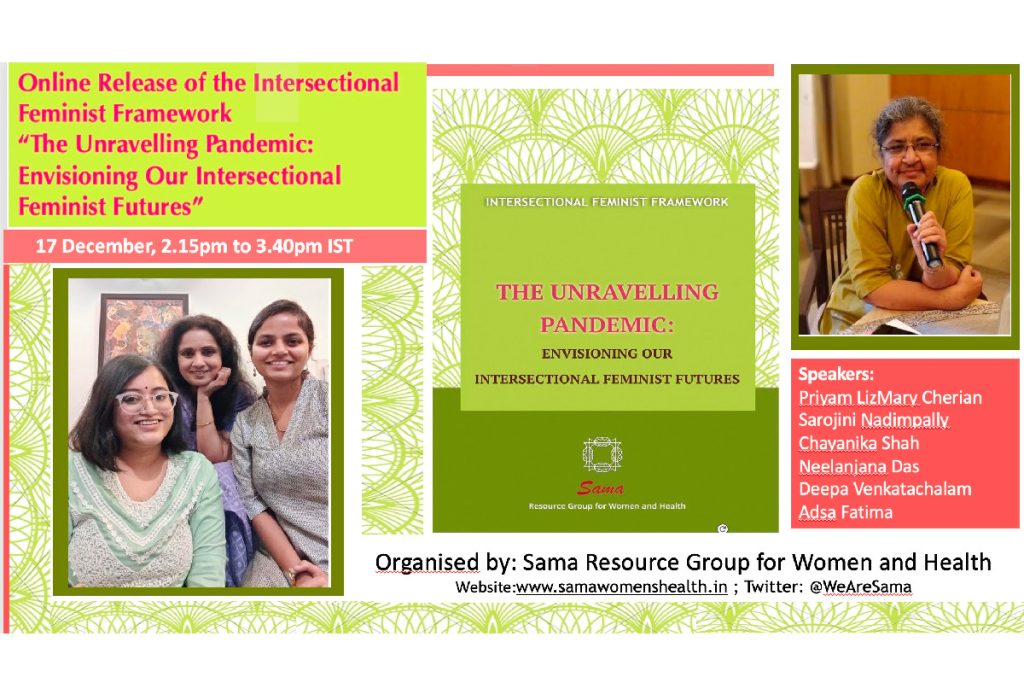 Dissemination event for the intersectional feminist framework
Prior to the webinar, you are welcome to join us for an online release of the intersectional feminist framework, The Unravelling Pandemic: Envisioning our Intersectional Feminist Futures, from 2.15 pm–3.30 pm IST.
This intersectional feminist framework has emerged from the experiences of this pandemic over the last three years. It is informed by Sama's intersectional politics that guides our work, as well as by insights from the history of previous pandemics and health crises. The pandemic has made clear the consequences of long-standing political apathy and global and local systems of power that lie at the centre of health and its governance. The framework interrogates, reflects on, and recommends responses towards a feminist future.
Register in advance to participate in the event: