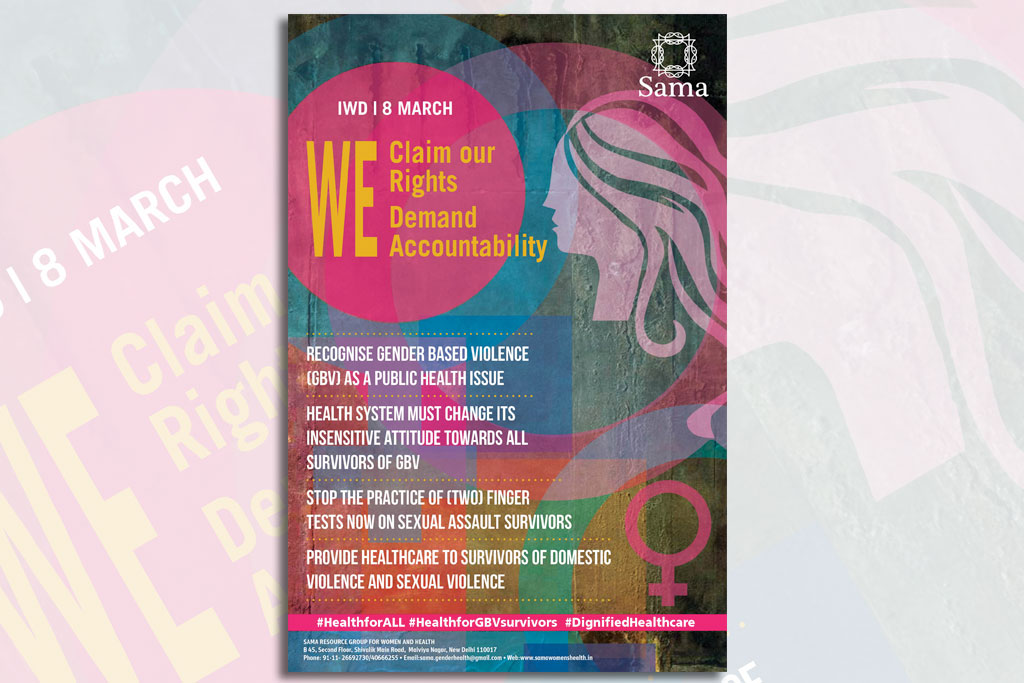 Through its engagement on strengthening the health system's response to gender-based violence (GBV), Sama has consistently striven to raise awareness on survivors' rights: the right to dignified healthcare, and the right to freedom from any discrimination or gender biases within public systems, which in turn may pose barriers in seeking justice.
The health system has continued to have critical shortcomings in addressing GBV and its survivors, despite various laws and legal amendments such as the Protection of Women from Domestic Violence Act (PWDVA) 2005, the Protection of Children against Sexual Offences (POCSO) Act 2012, and the Criminal Law Amendment Act (CLA) 2013, as well as updated policies like the National Guidelines on medico-legal care and treatment of survivors of sexual violence, all of which mandate the comprehensive role of the healthcare providers towards providing necessary healthcare, medico-legal assistance, psycho-social care and services, and appropriate referral information and linkages.
GBV has yet to be recognized as a public health issue across the country. Without this, the health system continues to lack preparedness, resources and orientation to respond to survivors of GBV in a comprehensive manner. The role of healthcare providers is not only limited to being essential care providers; they need to recognize the discriminatory nature of practices such as the 'two finger test', or medical comments on the state of the survivor's hymen, both of which unjustifiably implicate survivors' sexual history in medico-legal processes. Such practices have not only been rendered unscientific as admissible forensic evidence; the two-finger test has also been rendered illegal by the Supreme Court of India. Despite this, there remains a big lag in implementation of these updated laws and guidelines. It must be further noted that their implementation alone would not lead to survivors' rights being upheld, given the absence of a holistic gender sensitive orientation of the health system in the country.
Respecting survivors' rights must be made central to the practices and response of the healthcare providers on GBV. This International Women's Day, Sama voices these issues, faced by several women, girls, children and trans-women GBV survivors, through a poster for wider dissemination and continued awareness building.
This poster is available in both English and Hindi languages.
Download Hindi | Download English
For hard copies, please write to us at sama [dot] genderhealth [at] gmail [dot] com