Sweta Dash
---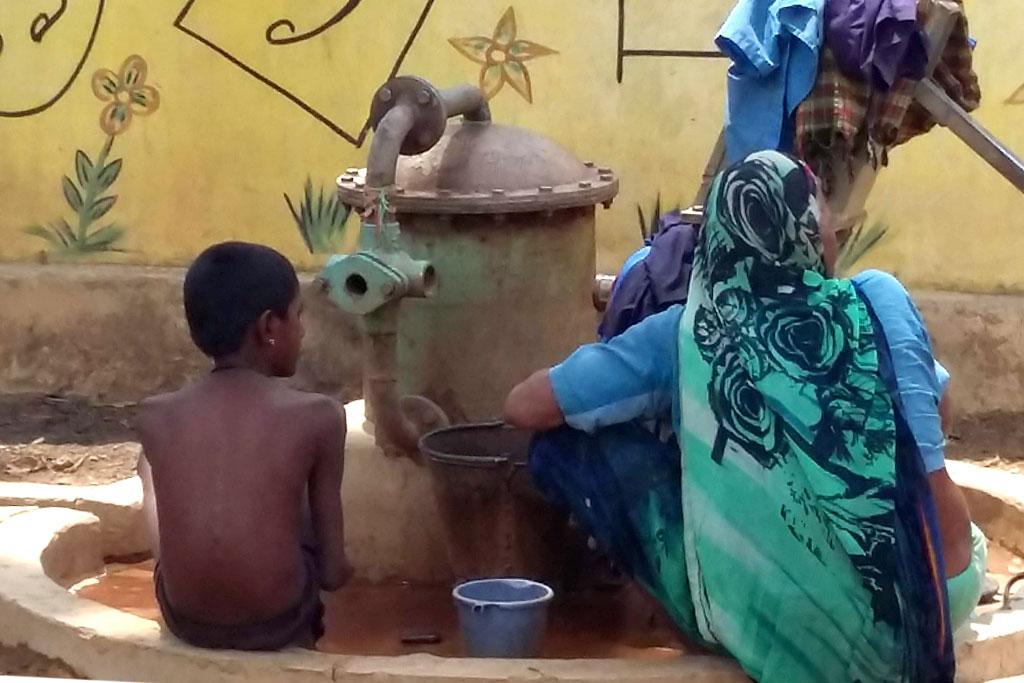 "Coronavirus has now entered the interior pockets of rural India where even the governments' long-promised vikas could never reach!" said Rajim, who works with the Dalit Adivasi Sangathan Manch in Baloda Bazar and Mahasamund districts of Chhattisgarh. She recalls people were able to joyfully roam in the forests and pick mahua flowers again at some point last year, but all of that came to a grinding halt during the second wave. Based on her observations, there have been 40-50 coronavirus cases and 2-4 fatalities in these villages, and every household had people suffering from Covid symptoms. Rajim has seen several deaths in her own extended family as well.
The beleaguered healthcare infrastructure and the abysmal possibilities of social security mechanisms in rural India exacerbated during the second wave and exposed us to more devastations owing to the pandemic. According to the State of India's Environment in Figures, 2021 released in June by Centre for Science and Environment and Down To Earth magazine, in May 2021, six districts in rural India accounted for over 52 percent of deaths due to coronavirus and 53 percent of all new cases of infection.
These realities seem to have evaded our Prime Minister when on the occasion of the Panchayati Raj Divas in April, he said, "I am confident that if someone is going to emerge victorious first in this fight against the coronavirus, then it is going to be India's villages and the leadership of these villages. The people of the villages will show the way to the country and the world." But, Rajim and others who have had their ears to the ground continue to remain wary. "We don't know how the way forward looks from here on." she lamented.
Limited possibilities of reliable and timely Covid testing
The coronavirus surge in rural India is often attributed to reluctance for Covid testing. However, we have every reason to believe that this is only one small part of the larger truth about the sheer unavailability and inaccessibility of appropriate healthcare services.
Bandana Sharma, the founder of Akansha Seva Sadan in Muzzafarpur, Bihar, confirms that most Primary Health Centres (PHCs) remain closed and people have to head to a district hospital or railway station for an RTPCR test. The nearest RTPCR testing centre could be anything between 15-50kms away. If the patient's family has no private transport, they are left at the mercy of auto-drivers who charge double/triple the regular fare if they ever agree to carry a suspected Covid patient. "One has to wait in the queue for 2-3hrs. Reports arrive after three days as a SMS message on the registered mobile number, " she added. Ground reports illustrate that reports sometimes reach after the patient has died.
Meera Singh, from Mahila Mandal in Jharkhand, works with about 100 villages in Chatrar and Hazaribagh districts there, and observes that the scale and criticality of cases is quite unprecedented. She cautions that this time the disease has also come in the form of typhoid. "Sometimes, doctors diagnose the problem as typhoid, prescribe typhoid medicines, and ask people to also get a Covid test. But, then, the patients might choose to only rely on the typhoid medicines alone without getting tested. That delay has often worsened their health drastically," she explained. Doctors say this confusion between Covid and typhoid is due to lack of rural messaging/information and a fear of going for Covid test.
Reliance on informal healthcare setups
There is a serious shortage of healthcare professionals in rural India. According to the State of India's Environment in Figures 2021, community health centres in rural India need 76 percent more doctors, 56 percent more radiographers and 35 percent more lab technicians.
The rural population is then almost compelled to rely on informal healthcare providers, often derisively known as 'quacks' or 'jholachaap doctors'. In fact, a survey conducted by the Centre for Policy Research concludes that at least two of every three doctors in rural India are informal providers of care, with no qualifications in the modern system of medicine. "If informal providers are counted as primary care providers, there is really no "shortage" of human resources.. Any strategy that does not account for the fact that most of our primary care is delivered by these providers cannot work at this moment," said Jishnu Das, one of the authors of this study. He suggests that these are not fly-by-night doctors but trusted members of the community who could be more useful with proper training.
Bandana Sharma believes that had it not been for these informal healthcare providers, the number of deaths in villages would have been higher. "They prescribe the standard set of six medicines to Covid patients. They are easily accessible to people here. In any case, when there is no access to public healthcare, they cannot even turn to the private hospitals because of the exorbitant costs. How will the mazdoor, kisaan, aur mahila afford them?" she added.
Newer informal healthcare practices are springing up and that is a cause of immense concern. In a village in Varanasi district in Uttar Pradesh, people have suffered losses in a certain Sunrise hospital that runs without ventilators or even responsible doctors. These hospitals run by 'quacks' admit even critical patients but they do not take the effort to monitor their vitals, let alone provide other tertiary care. In Mewla Gopalgarh in Uttar Pradesh, suspected Coronavirus had been sitting with glucose bottles hanging to branches of a neem tree. When the report was published, the administration went on to threaten the patients with an FIR under sections of the Epidemics Disease Act and more.
To acknowledge the importance and the reasons for informal healthcare practices in rural areas is not to dismiss problems associated with them though. While regulations must be put in place for informal healthcare providers, we cannot turn our back to the structural problems that brought us here. Reliance on 'quackery' and the fear of the formal healthcare system are all symptoms of the absence of reliable, affordable, and accessible healthcare sustained by ethical and people-oriented messaging.
Lack of Reliable Public Health Messaging
One of the most popular yet vicious channels of messaging about coronavirus still happens to unverified claims shared via social media or word of mouth. These claims often tend to spread like wildfire and are likely to have fatal consequences. Sushma, the founder of Swabhiman in Jharkhand, recalls the rumour about Covid vaccines causing infertility in the rural youth. When she asked the person who shared this rumour about the source, he said, "aise sunne mein aaya tha." There have also been similar rumors about vaccines causing death within 2 years.
These rumours are all a smokescreen and health rights advocates have been attempting to work around this problem through coordinated efforts between the government and civil society. For instance, during a vaccine awareness drive, when Soni Sil, a City Mission Manager with Cuttack Municipal Committee, Odisha, encountered vaccine hesitancy in the slum dwellers, not only did his team talk about the benefits of vaccines but they also tried to instill confidence by talking about how they took the jab. When Rajim went as a paralegal volunteer for a vaccine awareness drive, residents of the Birhor tola in a village in Chhatra district said that they would prefer the jangal ki hawa and jadibooti instead. "We reported this reaction to the court. We do not know what the court will instruct but surely these awareness drives cannot be a one-off effort, " she said. For her, the answer lies in bringing vaccinations closer to people's homes.
Clearly, persistent and ethical public health messaging is the indispensable need of the hour, and we have a long way to go.
Attacks on welfare mechanisms and other democratic rights
All promises for welfare mechanisms last year turned out to be rather unfulfilled. Rations, pensions, and jobs have all dwindled. And, with the scale of loss of lives and livelihoods that the rural population has witnessed, the need for full realisation of welfare rights is urgent.
The pandemic has had serious implications on the right to a dignified life for the marginalised. Rajim notes how Dalits and adivasis are left in the lurch as they have been historically undernourished because of social injustices. "They are more likely to be susceptible to the virus, fall sick, and possibly not even be able to find affordable healthcare," she said.
Soni Sil, a transperson herself, notes that the transgender community has been disproportionately affected. "Most transpersons here are engaged in train begging, sex work or baddhai. Who will look after their livelihood in these times? There is some support from a certain global fund, but that is far from enough" she said.
Meanwhile, it is impossible to ignore how terribly the pandemic has acted as a catalyst in weakening the democratic fabric and muffle voices of dissent, especially in the rural areas. Rajim sadly observes that the government callously enjoys a free rein during the pandemic to pass laws without due public consultation. Recalling the recent firing in Silger, Chhattisgarh, she adds, "they keep saying adivasis are 'naxals', punish them relentlessly, and now people cannot even imagine collective struggles against these atrocities!"
Rajim rightfully reminds us that health was a far too neglected area in public discourse up until the pandemic. "We should have been cautious about building public healthcare infrastructure in an affordable and accessible manner. But, we were made to engage with questions on mandir/masjid instead of demanding healthcare infrastructure" she said.
We had over a year to equip our crumbling rural healthcare systems and prepare for the second wave, but that was an opportunity lost. In the absence of adequate public healthcare systems equipped with medical resources, the rural poor is thrown under the bus. "Out of pocket expenditures are quite backbreaking, and how will people manage this without even ample social security measures?" said Bandana Sharma. Her concerns are quite telling of the fact that the need for universal healthcare for all is indeed urgent now, and that we can no longer afford to be lackadaisical about structural determinants of health in rural India.
---
Sweta Dash writes on public health, food security, and identification documentation issues. She is currently working as a Research Consultant with SAMA.
*Names were used with the consent