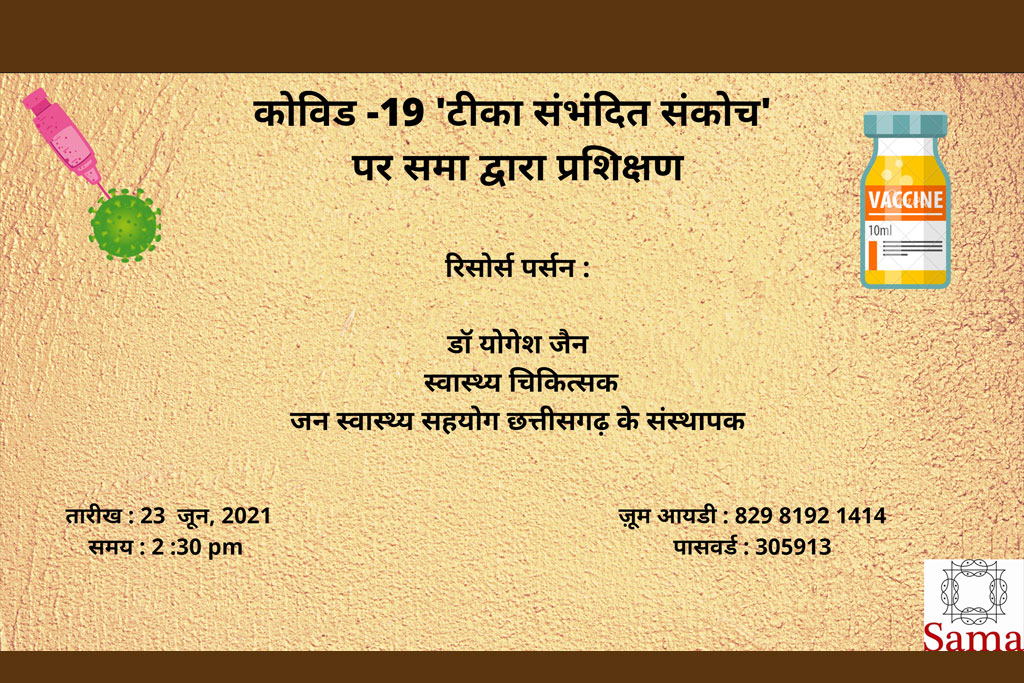 With the ground reality of Covid-19 pandemic and its impact on the rural and tribal communities in mind, Sama is organising series of orientations by public health professionals on various aspects of the COVID pandemic – Covid care, preparations for the next wave and strategies – with community-based organisations.
On Wednesday, 23rd June 2021, between 2:30 to 4:00 pm, Sama is organizing a training session on challenges faced by communities, CBOs and frontline health workers regarding COVID-19 vaccination and vaccine hesitancy.
Dr. Yogesh Jain will be the resource person for this session. Dr. Jain is a public health physician involved in community health programmes for over 25 years in rural and tribal areas of Chhattisgarh. The session will be focusing on vaccine hesitancy, facts and strategies to address the hesitancy. The session will be in Hindi.
Challenges on Covid 19 vaccination and possible ways to speed up the vaccination drive
Date and Time: 23 June 2021 | 2:30 PM (India)
Meeting ID: 829 8192 1414
Passcode: 305913