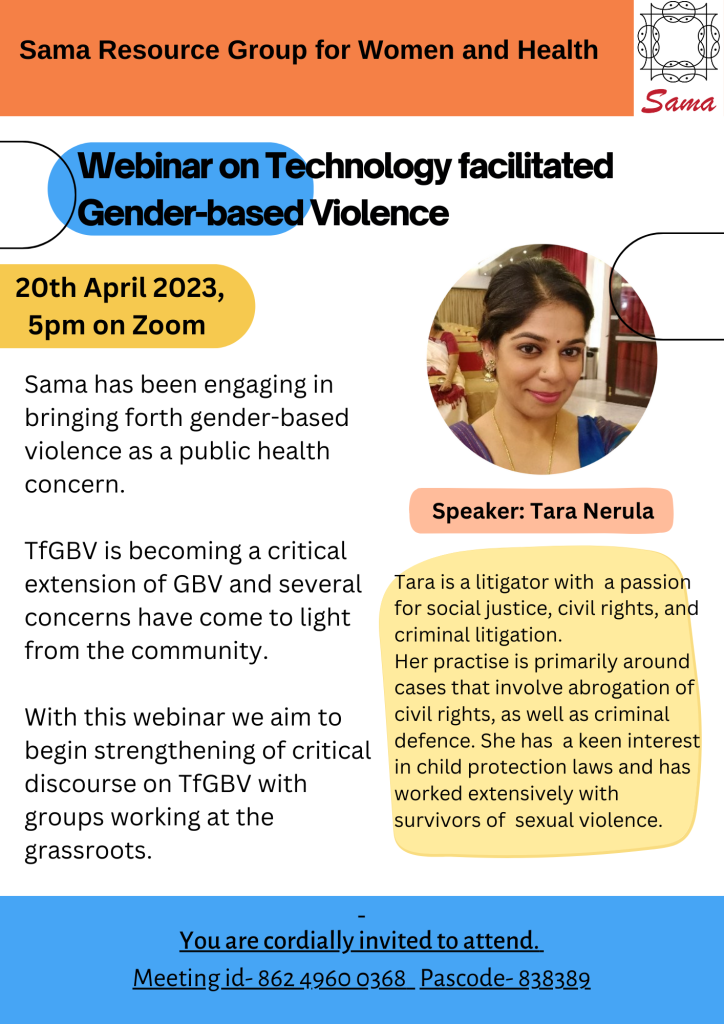 Sama is organizing a webinar on ' Technology facilitated Gender-based Violence' on the 20th of April at 5 pm. The need to understand and address technology-facilitated gender-based violence (TfGBV) or online gender-based violence has come up in our conversations with groups in Odisha and Bihar and Jharkhand during our workshops and short courses on Gender-Based Violence.
Through this webinar, we hope to begin a critical conversation on Technology facilitated Gender-based violence as a step toward strengthening our understanding of TfGBV.

Guest speaker- Tara Nerula
Tara is a litigator with a passion for social justice, civil rights, and criminal litigation.
Her practice is primarily around cases that involve abrogation of civil rights, as well as criminal defense. She has a keen interest in child protection laws and has worked extensively with survivors of sexual violence.
Do join us at 5pm this Thursday. (20th April) on zoom. In case of any queries, please reach out to [email protected]
**************************************************************************
'टेक्नॉलोजी के माध्यम से जेंडर आधारित हिंसा' पर समझ की ओर-एक वेबीनार
समा 20 अप्रैल को शाम 5 बजे ' टेक्नॉलोजी के माध्यम से जेंडर आधारित हिंसा पर समझ की ओर ' विषय पर एक वेबिनार का आयोजन कर रही हैं।
जेन्डर आधारित हिंसा पर हमारी कार्यशालाओं और शॉर्ट कोर्स के दौरान ओडिशा झारखंड और बिहार में समूहों के साथ हमारी बातचीत में टेक्नॉलोजी के माध्यम से जेंडर आधारित हिंसा (TfGBV) या ऑनलाइन जेन्डर -आधारित हिंसा को समझने और संबोधित करने की आवश्यकता सामने आई है।
यह वेबिनार समुदाय स्तर पर कार्यरत संस्थाओं व कार्यकर्ताओं के साथ इस मुद्दे और जुड़ी रणनीतियों पर ज़रूरी चर्चा देने के उद्देश्य से आयोजित किया जा रहा है।
वक्ता – तारा नेरुला
तारा एक अधिवक्ता हैं। उनकी रुचि सामाजिक न्याय, नागरिक अधिकार और आपराधिक मुक़दमों में है। उनका अनुभव मुख्य तौर से नागरिक अधिकारों के हनन और फ़ौजदारी मामलों से जुड़ा है। वो बाल अधिकार के संरक्षण से जुड़े क़ानून में भी विशेष रुचि रखती हैं और उनका यौन शोषण से संघर्षशील नाबालिग व्यक्तियों के साथ व्यापक काम रहा है।
इस गुरुवार (20 अप्रैल) शाम 5 बजे ज़ूम पर जरूर जुड़ें। किसी भी तरह के शपष्टीकरण या सहायता के लिए [email protected] पर संपर्क करें ।