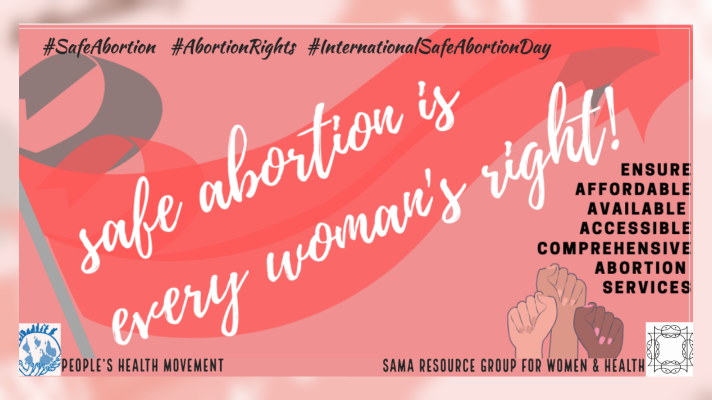 The Right to Safe Abortion is inextricably linked to the health and lives of ALL women, girls, and trans-persons. The ongoing struggles to surmount the barriers in securing safe abortions services globally are in fact a testimony of the systematic injustices and violations of their health and human rights. Affordable, Accessible, Safe, Comprehensive Abortion services should be Available to ALL-irrespective of their caste, class, religion, ethnicity, or sexuality.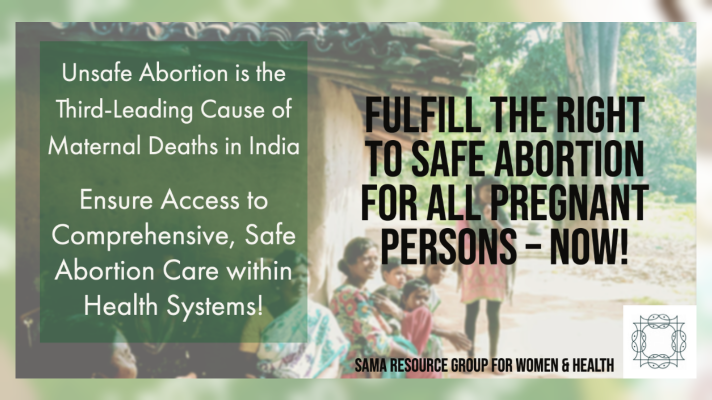 Unsafe abortion remains one of the leading causes of maternal deaths and disability in the country. It is essential to recognize Access to Safe and Comprehensive Abortion Services and Care as a Right for every pregnant person.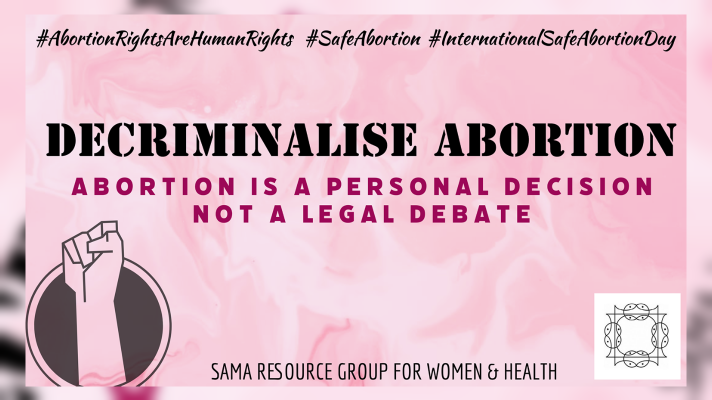 Abortion is a personal decision and not a legal debate! It is important to understand that abortion services should be made easily available and accessible to all while upholding the bodily autonomy and the agency of the person to decide when and whether to have children or not. Decriminalize abortion across the globe. Abortion is a matter of Gender Rights and an essential part of Sexual and Reproductive Health & Rights.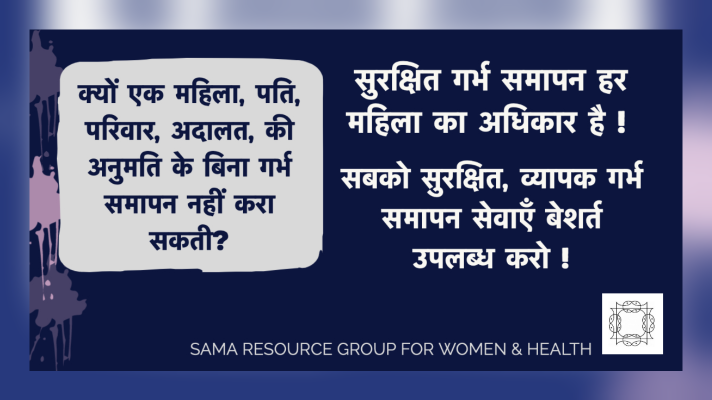 In order to access safe abortion services, women and girls are often asked to fulfill the many conditions and administrative requirements before she can access safe abortion services. Her ability to avail safe abortion services becomes contingent on her partner, family, the health service provider, and many times the court. In all, she is denied the ability to practice her own bodily autonomy and agency and is no longer free to decide to when and whether she wants to have children or not, which in turn has both short term and long term social, psychological, and physical implications on her life and health. It is thereby essential that abortion is recognized as a right!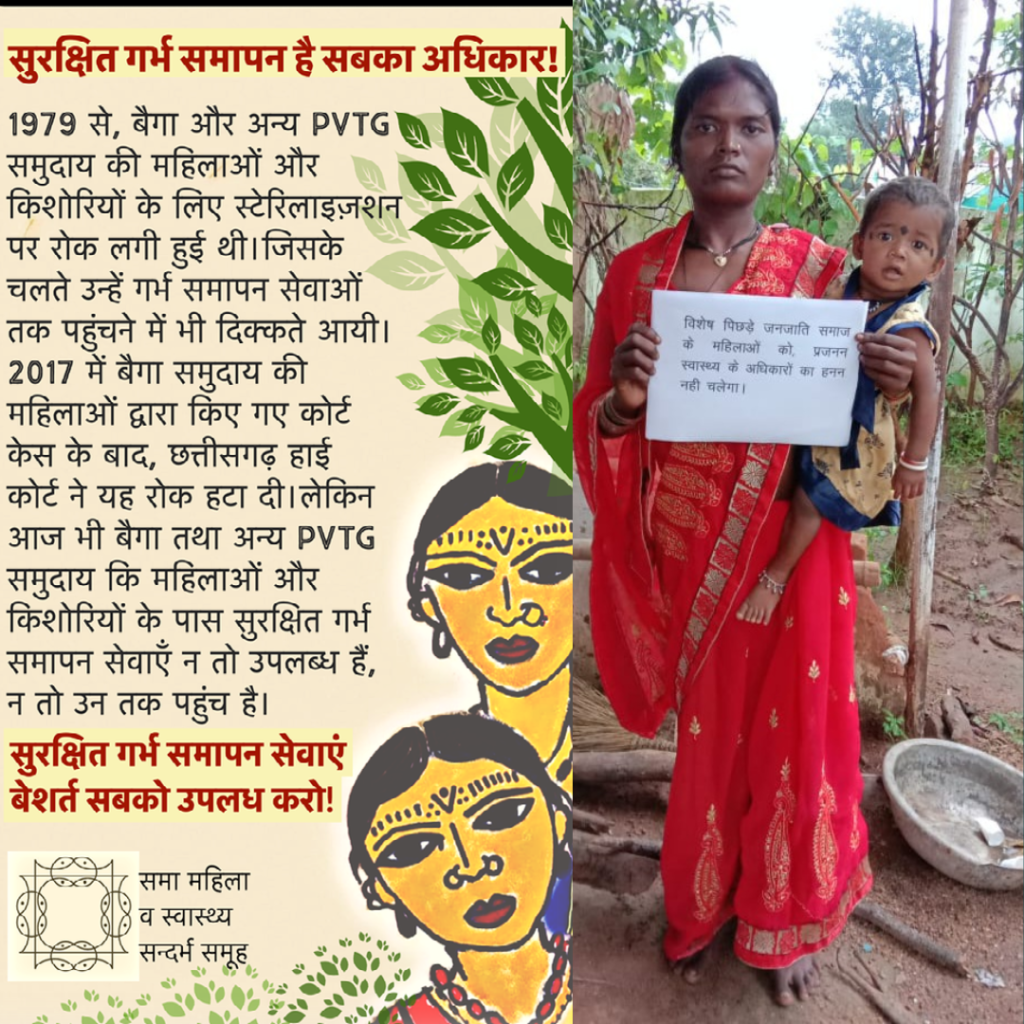 Access to Safe Abortion Care and Services is often denied to the marginalized communities based on policies aimed towards population control. It is essential that comprehensive abortion services are made available and their access ensured to the women and girls of the marginalized communities, without any conditionalities. Further, it is essential that adequate information about safe abortion services should be made available to them in their language.
A woman from Chhattisgarh asks the pertinent question that "for long, we have been denied access to safe abortion services when we don't want to have many children, while at the same time we have been given little access to food security, health services, employment, and education opportunities. How am I to take care of my entire family without any economic or social security…how are we to survive?"
Struggles for reproductive rights are incomplete without acknowledging the struggles led by women, persons from marginalized communities-systemic discrimination, and violations faced by them. While looking into the issue of safe abortion rights in Chhattisgarh, the struggles of women from tribal communities to challenge the reproductive injustices are central to the comprehensive demands of safe abortion care and services.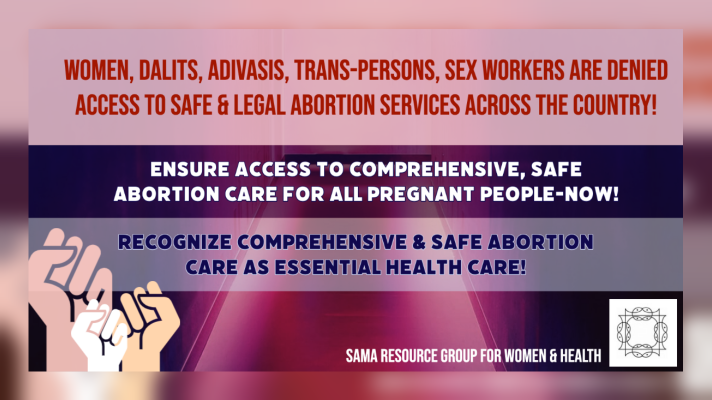 The intersections of varied contexts and marginalizations are necessary to understand the systemic barriers faced by ALL pregnant persons in access to safe abortion services. It is essential that safe & comprehensive abortion services are made available to ALL- irrespective of their caste, ethnicity, age, religion, and sexuality.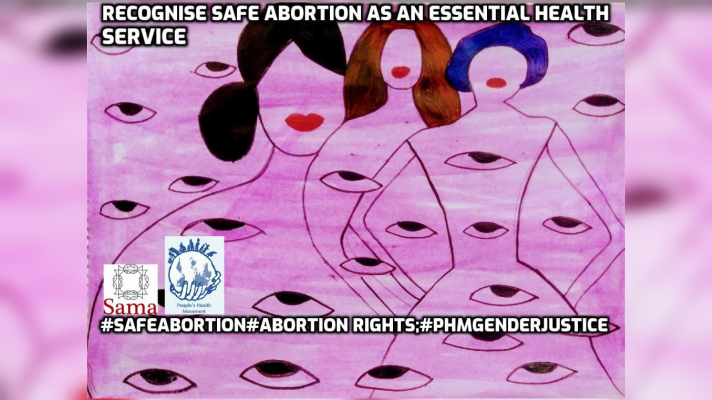 Abortion is stigmatised in the society. These biases often seep into the behaviour of the health service providers making it even more difficult for women, girls and trans-persons to seek safe and legal abortion services. It is important that such stigmas and biases be rooted out and adequate and correct information about safe abortion is easily accessible and available.
Sama organised a Webinar on 25th September, keeping in mind the International Safe Abortion Day. During the webinar the panelists discussed the socio-cultural and economic barriers that women from the marginalised communities face while accessing safe abortion services in their state. Further the panelists also put forth the legal perspectives which are important for developing an in depth understanding of the barriers and struggles of the women from the marginalised communities.
Sama and People's Health Movement came together on this International Safe Abortion Day to reiterate the demand for Access to and Availability of Affordable, Comprehensive and Safe Abortion for All.
Altaf Hossain Executive Director, BAPSA (Association for Prevention of Septic Abortion, Bangladesh) demands that safe and comprehensive services be made available to all women as the Right to Safe Abortion Services are fundamental and crucial to realizing fundamental human rights which remains true during this Covid-19 public health crisis.
Leigh Haynes from the People's Health Movement, USA speaks about how Human Rights are incomplete without #SafeAbortion. Access to safe, comprehensive abortion care within health systems must be Ensured.
Peninah Khisa from the People's Health Movement, Kenya speaks on how safe abortion services are not a reality in her country. She says that we women have the rights over our own bodies and that we have to hold our Governments accountable for our health rights.

A solidarity message from the Women's Global Network for Reproductive Rights (WGNRR) was also shared with us on the International Safe Abortion Day highlighting the need to further strenghten solidarities in order to improve and ensure access to safe abortion services and care for all persons across the globe.
Do share on the various social media platforms and we also welcome posters, videos, messages, write-ups in diverse languages highlighting the Right to Safe Abortion Services and Care for All-irrespective of their age, caste, class, religion, ethnicity, and sexuality.