Sweta Dash
(for Sama Resource Group for Women and Health)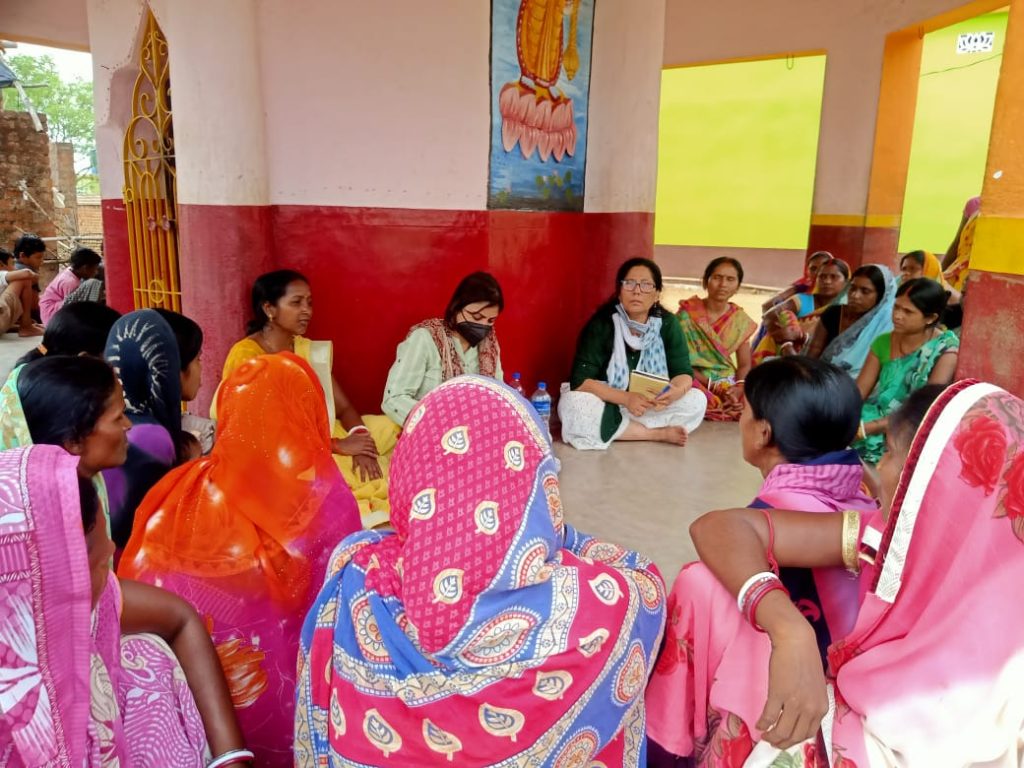 This article explores what the Budget 2022-23 promises for mental health from a gendered perspective. In the given conversation on mental health, we adopt the lens of intersectionality to visualise a more inclusive world that is cognisant and respectful of multiple contexts and marginalisation. As we fully understand that identity and lived realities are not unidimensional and monolithic, but deeply determined by the fissures in our socioeconomic, political, and cultural paradigms. In February 2022, almost two years after the unfortunate arrival of the Covid-19 virus into our everyday realities, a lot of hopes were pinned on the Budget 2022-23. Like many others working on similar issues, we also held on to the possibilities of the budget truly catering to what needs to be done to repair and/or ameliorate the insurmountable loss and trauma people have had to endure all this while. The article shall first examine what the Budget 2022-23 proposes for healthcare in general and mental healthcare in particular. We shall contrast it with data from the previous year, and see how far/behind we have come. We shall then delve into the intricacies of why mental healthcare needs a gendered perspective and put forth a few ways this could have been done better.
Reading Budget 2022-23's promise for mental healthcare
In 2022-23, with Rs 86,200.65 crore, the Budget Estimate (BE) for the health sector witnessed a 16.59% increase compared to the previous budget estimate.
Interestingly, mental healthcare found a place in the Finance Minister's Budget speech this year. She acknowledged that the pandemic has indeed accentuated mental health problems in people of all ages, and said, "To improve the access to quality mental health counselling and care services, a National Tele Mental Health programme will be launched." 23 tele-mental health centres are to be launched with the National Institute of Mental Health and Neuro Sciences (NIMHANS) in Bangalore as the nodal centre, and the technical support for the mental health programme is to be provided by the Indian Institute of Technology (IIT) Bangalore.
While the increase in BE for healthcare may seem laudable at a cursory glance, data shows that the allocations are really a negligible increase as compared to the Revised Estimate (RE) of Rs 85,915 crore for FY 2021-22. (BE – allocations announced at the beginning of a financial year, RE – mid-year review of possible expenditure in that financial year).
In fact, of the Rs 71,269 crore allocated for the Ministry of Health and Family Welfare in last year's Budget, the budget was Rs 597 crore. Only seven per cent of this was allocated to the National Mental Health Programme. A majority of it has been set aside for just two institutions: Rs 500 crore for NIMHANS Bangalore and Rs 57 crore for Lokpriya Gopinath Bordoloi Regional Institute of Mental Health in Tezpur. To much of our dismay, India continues to spend an abysmally low percentage of its GDP on health. The Economic Survey 2022 shows India spent 2.1 per cent of its GDP on health in the previous financial year 2021-22. In 2020-21, India spent just 1.8 per cent of its GDP on health. And, as per the National Health Policy 2017 report, the Indian government still has extremely low targets: to increase public health spending to 2.5 per cent of the country's GDP by 2025. Just 2.5! And, it is unsurprising to imagine the pittance that must have been allotted to mental healthcare – an already viciously overlooked area.
The State of Mental Healthcare in India
A Lancet report in 2019 put together the first comprehensive study of the prevalence and disease burden due to all mental health problems in all states of India from 1990 to 2017. It found that one in every seven people in India is affected by mental health problems.
Unfortunately, that finding has to be seen in tandem with findings of the National Mental Health Survey, 2016 – Nearly 70-80 per cent of those with mental health problems in India received no treatment.
The covid-19 pandemic certainly exacerbated mental health issues in the country. The uncertainties, fears, and trauma associated directly with being affected by Covid-19 affected people in life-altering ways, especially after the second wave which left almost everyone having to deal with the consequences of knowing at least one person in their immediate close circles who had tested positive. The inadequate and crumbling healthcare system only added to these anxieties. Keeping the virus at bay meant isolation and being locked up within households that may not have been a safe haven for all. That apart, the pandemic was also mired in economic woes, social discrimination, human rights violations, and chaos of inadequate information or rabid misinformation. To illustrate the gravity of this grim situation, another Lancet report in 2021 reported a 35 per cent increase in mental health problems in India. A UNICEF survey released soon after this report found that one in every seven 15-24 year-olds in India felt depressed or had little interest in doing things. The National Crime Record Bureau (NCRB) annual report in November 2021 shows suicides in India increased by an alarming 10 per cent in 2020 during the pandemic – nearly 400 Indians died by suicide each day in 2020.
Mental Health and Gender
It has been repeated by different institutions and feminist groups far too many times that the pandemic could potentially even reverse the limited progress that has been made on gender equality in the past decades. As the 'From insights to action: Gender equality in the wake of COVID-19' report said, "The impacts of crises are never gender-neutral, and COVID‑19 is no exception."
Gender plays a huge role in the possibilities of mental well-being as well as accessibility and affordability to mental healthcare. As early as 2000, the World Health Organisation (WHO) declared that "gender determines the differential power and control men and women have over the socioeconomic determinants of their mental health and lives"
To then interrogate the state of mental healthcare in India without being cognisant of gendered realities would be a brutal disservice to an intersectional feminist public healthcare and right to a dignified life for all.
In India, women and girls often bear the brunt of household chores and care work at a huge cost to their own physical and mental wellbeing. With the pandemic closing down spaces for them, unpaid care work became harsher over time. According to a 2020 report released by Oxfam, women and girls spend 3.26 billion hours of unpaid care work on a daily basis, contributing about 19 lakh crore rupees to the Indian economy per year. Another rapid assessment study by the Population Foundation of India found that 51% of female respondents in Bihar, Rajasthan and Uttar Pradesh experienced an increase in domestic workload during the nationwide lockdown, while just 23% of males did.
Domestic violence cases in India also spiked up during the lockdowns. Between March 25 and May 31, the National Commission for Women received1,477 complaints of domestic violence – at least 2.5 percent increase from the earlier numbers.
To take control of the situation, the NCW launched a WhatsApp number for reporting domestic violence cases. But, that in itself could not have acted as a panacea to this problem. Access to mobile phones and the internet is limited for women. According to the Telecom Regulatory Authority of India (TRAI), India's overall tele-density is just 87% and only 58 of every 100 people are internet subscribers. In fact, data from the National Family Health Survey-5 (2019-2021) (NFHS-5) shows that only one in three women in India (33%) have ever used the internet and adult women are 15 percent less likely to own a mobile phone than men. In stark contrast, more than half (57%) of men had used the internet. This gendered aspect of the digital divide was more prominent in rural India, with women being about half as likely as men to have ever used the internet. For people from the queer, non-binary, and trans communities, the lockdowns meant staying in abusive, oppressive, and discriminatory households. Feminist organisations like the Sappho For Equality and Y'all were overwhelmed with a higher number of distress calls during the national lockdown. There were also other medical stressors like restricted access to gender-affirming surgeries, Hormone Replacement Therapy (HRT), and Anti-Retroviral Treatment (ART) for those affected by HIV/AIDS. And, with a seemingly large majority of mental health professionals being homophobic and transphobic themselves, with some even labelling homosexuality and transness as diseases that need to be cured, the LGBTQI+ community was left in a lurch.
How the Budget 2022-23 Fails to Cater to The Gendered Nature of Mental Healthcare
Data from the past four financial year budgets shows that less than 1 percent of the total budget allocation to the Ministry of Health and Family Welfare has been dedicated to mental healthcare services. There is an urgent need for efficient budgetary allocations and spending to reflect the need to prioritise mental healthcare services.
The decision to hand over capacity and resources to just two institutions presents a critical problem of limited diversity and accessibility. In such a case, mental health practitioners and researchers from marginalised and/or rural communities are restricted now to private organisations and hugely funded government institutions. This will also catalyse pushing people with mental health issues into private mental healthcare services.
Considering the appalling effects of the pandemic on the gendered nature of mental healthcare in India, it is unfortunate that Budget 2022-23 does not do enough to assuage the losses.
While, a total of 1,71,006.47 crore has been allocated for the Gender Budget – over an 11 percent increase from the 2021-22 BE, it is still a grim picture. It has marginally declined from 4.72% pre-pandemic to 4.4% in 2021 to 4.3% this year.
Given these struggling contexts, it becomes difficult to grapple with the fact that in such abysmal times, this Budget shows a 25 crore decline in allocation for women's safety schemes like 'One Stop Centre, Mahila Police Volunteer, Women's Helpline, Swadhar, Ujjawala, and 'Widow' Homes. The 2021-22 budget had also exhibited a decline in allocations to The Ministry of Women and Child Development, which runs a number of such important schemes. Even a jarring truth, it was found that barely 50% of this allotted budget was spent.
Data from the website of the Controller General of Accounts, Ministry of Finance, Government of India, shows that up to November 2021, the Ministry of Social Justice and Empowerment had also spent barely 11% of the budget estimates. At a time when public spending on addressing socioeconomic inequities should have been ramped up, data shows how policymakers turned their back on the people of India.
Budget 2022-23 also relied heavily on the push for digitisation, despite all evidence pointing to the need for equitable access to resources. The Finance Minister shared visions of education being provided through TV Channels and Digital classrooms. Little does such an idea do to at least acknowledge how girls have been pushed out of schools during the lockdowns and how online education has taken us many steps behind in the right to education for all.
Flagship schemes like Beti Bachao Beti Padhao and Pradhan Mantri Matru Vandana Yojana (PMMVY) have seen a hike of over 105 crore rupees from last year. It does not come across as too laud worthyeither. For 'Beti Bachao Beti Padhao', the red flag would be the fact that the majority of the budget allotted to it had been spent only on advertisements earlier. For PMMVY, a conditional access maternity entitlement, the increase is highly insufficient and in effect a mockery of the needs of pregnant and lactating women who deserve wage compensation, nutritional and medical support, and access to affordable healthcare.
At a time when women's care work has been devalued exponentially, Budget 2022-23 could have helped by acknowledging their care work. Anganwadi workers, helpers, mid-day meal cooks, and ASHA workers have had to withstand years of struggle asking the successive governments to recognise them as workers, pay due wages, and provide social security measures. The Budget makes no promises to them, despite the gruelling labour that they have had to endure during the pandemic.
Digitisation-better access?
The push for digitisation with the tele-Mental health programmes is extremely unlikely to increase access to mental healthcare as suggested in the Budget speech. Even a cursory look at the state of digital inequity and tele-density or even narratives of exclusions due to digitisation during the pandemic is reason enough to not fall for that 'digitisation = better access' trap here.
Way Forward
The pandemic has not just exacerbated the mental health crisis in the country, but also added more specificities. This loss, trauma, and anxiety are unprecedented in most of our individual lives, at the very least. Policymakers, then, cannot make piecemeal, broad, and one-size-fits-all formulaic responses.
It is imperative to remember a certain recommendation of The Mental Healthcare Act 2017 (MHA, 2017): Mental Healthcare needs to be integrated with 'general' healthcare services at all primary, secondary, and tertiary levels in all government-run health programmes, and supported with due training and capacity building. While touching upon digital health initiatives, the MHA, 2017 noted that these measures need to focus on enhancing gender-equitable internet coverage in the country.
The scope of the National Mental Health Programme needs to be broadened, and there has to be sustained engagement with a larger group of stakeholders. The gendered nature of the mental healthcare crisis needs cooperation, solidarity, and active participation not just in the healthcare sector but also in social and humanitarian justice, welfare mechanisms, education, workplaces, gender empowerment and sensitisation, and more. Only then, can we ever dare to dream of an inclusive, sensitive, affordable, and accessible mental healthcare system?
Sweta Dash writes on public health, food security, and identification documentation issues and contributed this essay for Sama Resource Group for Women and Health.