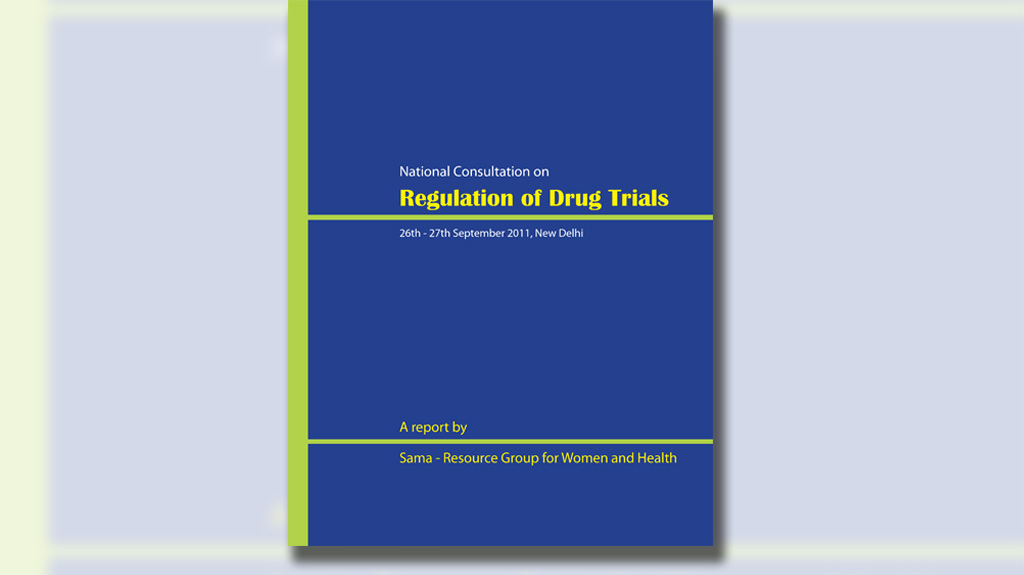 2012 | Sama
This report is based on the national consultation on Regulation of Drug Trials organized by Sama in collaboration with the Centre for Studies in Ethics and Rights (CSER); Low Cost Standard Therapeutics (LOCOST); All India People's Science Network (AIPSN); Drug Action Forum, Karnataka (DAF-K) and Dr Amar Jesani (IJME) on 26- 27 September, 2011 in Delhi. The two day consultation focussed on the clinical research scenario and the related issues and concerns.
Currently, the infrastructure for regulation, ethics review and monitoring for drug trials is insufficient. In this situation, the government's push to encourage clinical trials in India must be viewed with concern.  In the last few years, many drug trials have taken place without proper protocols and informed consent. At the levels of planning, design and implementation, there is a lack of transparency. The consultation sought to open channels for dialogue and deliberation between science and policy to draft framework for regulation; create a space for discussion on policy level advocacy for regulation of clinical trials in India; develop an understanding of the multi-faceted nature of drug trails in India and explore its links with business and commerce, ethics and human rights and to analyse its relationship with a growing biotechnology and pharmaceutical industry; and identify gaps and strengthen the existing provisions for regulation.
The consultation recommended for looking at rights of the participants in clinical research. The sessions helped in understanding and deliberating on range of issues – dilemmas pertaining to the new division of labour in commercialised research and the CRO industry; the regulatory provisions including ICMR's Ethical Guidelines for Biomedical research on Human Participants, the proposed bill on Human Subject Protection in Health Research and the review of Schedule Y of the Drugs and Cosmetics Act and issues related to compensation in case of adverse events and role of ethics committees.