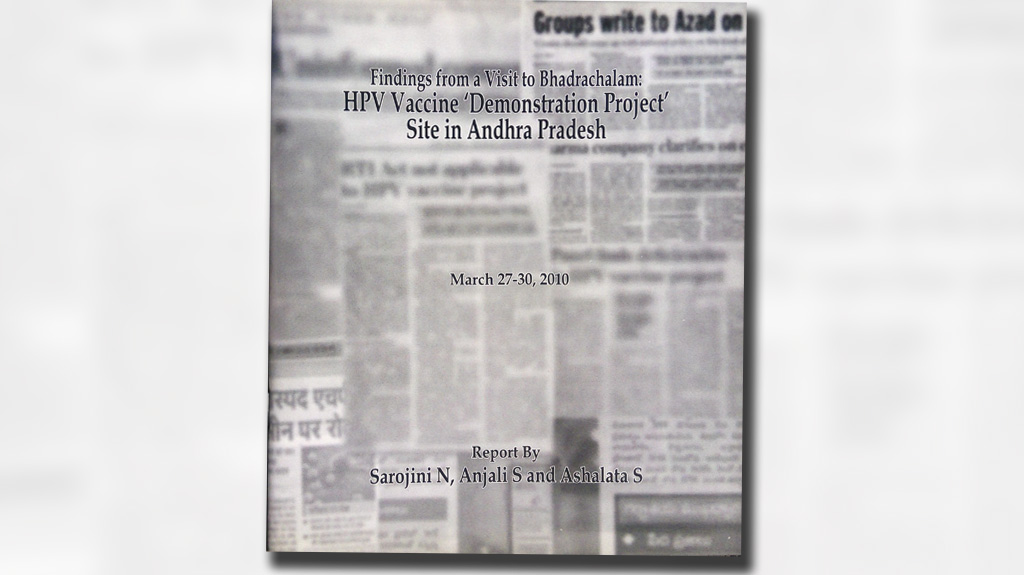 2010
This report is based on the fact finding undertaken by Sama along with Jan Swasthya Abhiyan and Anthra in Bhadrachalam, one of the areas in Andhra Pradesh (now Telangana), in March 2010, to see the impact of the HPV vaccine on girls between 9-13 years.
There were reports of deaths of four girls from Andhra Pradesh and two girls from Gujarat following the administration of the Human Papilloma Virus (HPV) vaccine. Sama along with Jan Swasthya Abhiyan and Anthra conducted a fact finding in March 2010 in Bhadrachalam, one of the areas in Andhra Pradesh, where the HPV vaccine was being administered. In 2009, the Andhra Pradesh Minister for Health and Family Welfare in association with the Indian Council of Medical Research (ICMR) and PATH (Programme for Appropriate Technology in Health) International, a non-profit organization based in USA, launched what it described as a 'demonstration project' for vaccination against cervical cancer. The vaccine, against the, HPV which is one of the most common families of viruses and the source of a common sexually transmitted infection, was administered to 14,000 girls between the ages of 10 and 14 in three mandals – Bhadrachalam, Kothagudem and Thirumalayapalem – of Khammam district in Andhra Pradesh. In Andhra Pradesh, the vaccine used was Gardasil, manufactured by Merck Sharpe and Dohme, the Indian subsidiary of Merck and Co. Inc., a US-based pharmaceutical company. In a similar project the Gujarat government launched a two-year 'Demonstration Project for Cancer of the Cervix Vaccine' in three blocks of Vadodara District – Dabhoi, Kawant and Shinor – to administer three doses of the HPV vaccine to 16,000 girls between 10 and 14 years.
In March 2010, a team of women's activists and health rights activists visited Bhadrachalam mandal, one of the three mandals of Khammam district where the 'demonstration project' was undertaken to understand the ground reality; in particular, to look at the nature and procedures of taking consent and providing information to the girls and their parents, and the availability of the health infrastructure required to support cancer screening and prevention.
The fact finding report highlighted several violations that occurred during the vaccine trials and the issues with regard to informed consent, ethical considerations in conducting trial including poor quality health infrastructure came up. Young girls selected to participate in the trials were from marginalised groups of schedules castes, scheduled tribes, muslims and other backward communities. Many of the vaccinated girls suffered from stomach aches, headaches, giddiness and exhaustion, early onset of menstruation, heavy bleeding and severe menstrual cramps, extreme mood swings, irritability, and uneasiness following the vaccination. No systematic follow up or monitoring has been carried out by the vaccine providers.