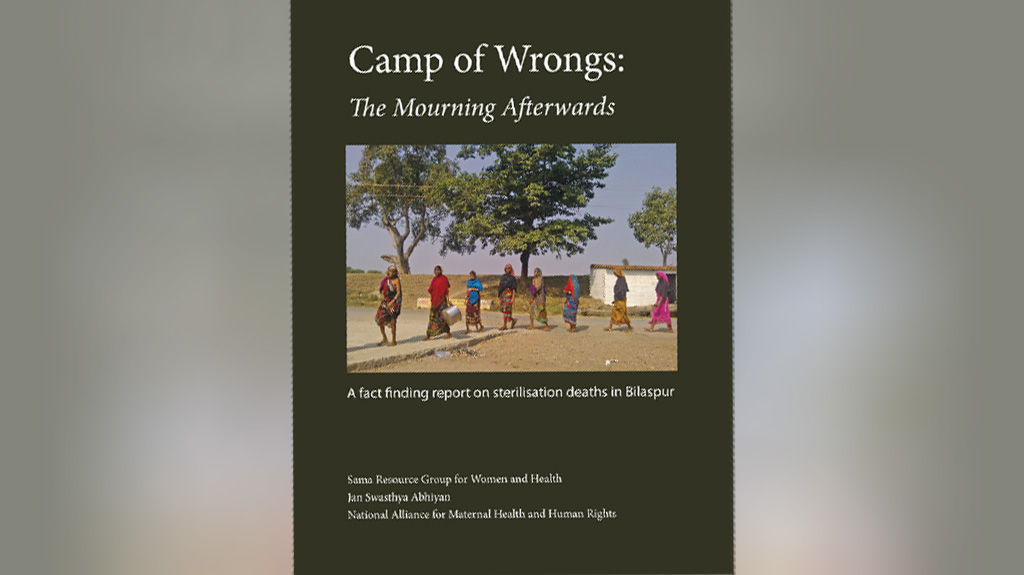 A fact finding report on sterilisation deaths in Bilaspur | 2014
This report is based on the fact finding that was undertaken in Bilaspur by a team comprising Sarojini N, Jashodhara Das Gupta, Vaibhao Ambhore, Deepa Venkatachalam and Sulakshana Nandi, following the deaths of the 13 women and the critical condition of the 70 other women in Bilaspur district of Chhattisgarh, after laparoscopic sterilisation procedures were performed on them.
In India, sterilisation, particularly tubectomy, has been vigorously promoted and pushed by the state through centrally- decided targets and on mass scale through a camp approach, largely disregarding other currently available methods. Sterilisation constitutes 75 per cent of India's total contraceptive use.
The team's visit to Bilaspur was preceded by the reports of the incident from JSA Chhattisgarh members. A meeting among concerned health activists and researchers was held in Delhi to plan a follow up action and a fact finding visit to Bilaspur was planned. During the visit, the team met with the family members of the deceased women as well as those undergoing treatment. Interactions were carried out with healthcare providers and government officials, and also meetings were held with local organisations. The team visited the concerned health facilities and documented its observations.
The fact finding visit revealed several medical, systemic, administrative and ethical issues. The episode was a clear indictment of the population control agenda the Indian government, which, for decades now, has been characterised by targeting and coercion of poor women with gross human rights violations. The report made recommendations at the Bilaspur, Chhattisgarh level and at the policy level regarding a thorough and systematic enquiry of the incident, strengthening access to safe and quality contraceptive services, and also, strengthening of implementation of Standard Operating Procedures (SOPs) and quality assurance.